Stain Removal
EZ STAIN REMOVAL & REMEDIATION PADS
Polished Concrete Floor Stain Removal & Maintenance
ECOGUARD is specifically targeted to answer the challenges of the retail food service industry. It is comprised of a complete system from diamond abrasive specialty pads to address stain and surface damage repairs, to environmentally friendly chemical compounds for daily and periodic maintenance program. The client is responsible to maintain the guidelines set by Concrete Choice through its application standards.
The ECOGUARD Hard Floor Rejuvenation system is based on a series of specialty manufactured diamond pad abrasives which are uniquely engineered to meet the standards of working restrictions with auto-scrubbers or single head rotary scrubbers (low RPM and head pressure) and high speed burnishers (high RPM, very low point pressure). Our entire premise is to provide a systemic solution to perform repairs during off hours with no down time and no traffic restrictions.
For the retail food service industry, this provides proprietary solutions to known problems with organic acids and other food groups reputed for hard floor staining and contamination. Our abrasive system will quickly address and remove unsightly stains, and re-polish damaged areas, to the desired reflective finish.
ECOGUARD Polishied™ is a penetrating, protective barrier against stains, marring, and heel marks. Polishield™ demonstrates excellent resistance against abrasion wear, salts and deicers, heavy foot traffic, and other contamination which is often more pronounced at the entrance and in the fresh vegetable and fruit areas of the store.
DEEP STAIN REMOVAL & SURFACE REPAIR
REMOVAL OF DEEP SCRATCHES
REMEDIATION OF "ORANGE PEEL"EFFECT OF THE SURFACE.
REMOVAL OF DEEPLY ETCHED STAINS
USED WITH SINGLE HEAD OR MULTI HEAD AUTO SCRUBBERS
BENEFITS:
UNIFORM SURFACE FINISH
DEEP CLEANING OF THE POLISHED FLOOR SURFACE
REMOVAL OF ETCHED/EMBEDDED STAINS
FAST & EASY TO USE WITH STANDARD JANITORIAL EQUIPMENT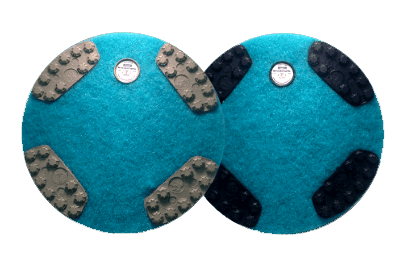 SURFACE RE-FINISH & LIGHT STAIN REMOVAL
FAST REMOVAL OF LIGHTLY ETCHED STAINS
REMOVAL OF FINE SCRATCHES
RENOVATION OF EXISTING POLISHED FLOORS
BENEFITS:
FOLLOW UP POLISHING PROCESS AFTER REMEDIATION PADS
OBTAINS POLISHED SURFACE TO A DESIRED GLOSS FACTOR
PERFECT SURFACE PREP FOR POLISHIELD APPLICATION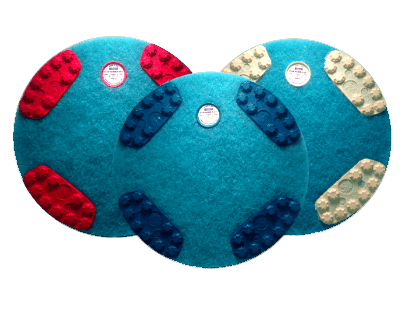 RECOMMENDED STAIN & SURFACE DAMAGE REMEDIATION EQUIPMENT:
Single head auto-scrubber or rotary scrubber – recommended 16-17" head size for easy maneuvering and spot removal.
Electric high speed burnisher for final and periodic buffing of the floors – 20" recommended for ease of use and versatility in tight areas.
ECOGUARD EZ-STAIN REMOVAL ABRASIVE PADS:
Pads 00 (Grey) & 01 (Black) – Stain removal
Fit your auto-scrubber unit with Pad 01 and prepare to abrade the floor surface. Pre-wet your surface loosely to ensure there are no dry spots. Run the unit laterally and crisscross your first pattern on a second pass, and again on the final and third pass. You want to ensure to move the unit slowly so that the head speed can keep up with your forward or sideways motion.
Once you have completed three passes, squeegee the area and ensure that the damaged/stained area is completely removed. If not, run Pad 00 as above and follow up with Pad 01.
NOTE: Pad 00 should only be used to remove deeply embedded stains. Always start with Pad 01 – on the rare occasions it proves to not be aggressive enough, use Pad 00 and follow with Pad 01. Pad 00 is aggressive, and if over-used can change the surface texture of the concrete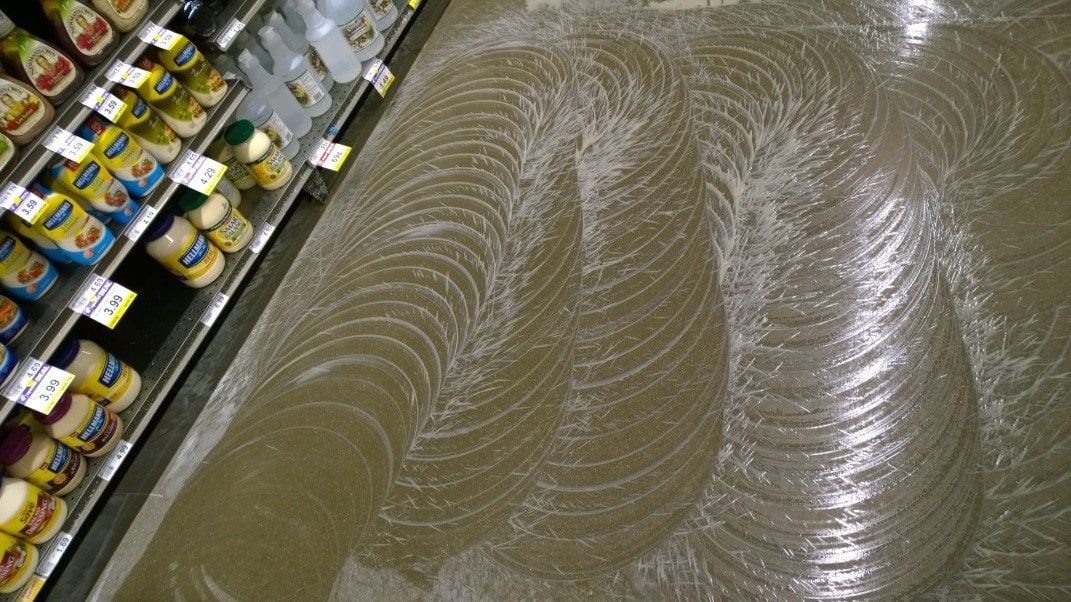 Pads 02 (Blue) & 03 (Red) – Re-polishing process
Fit your single head scrubber unit with Pad 02.
Apply Ecoguard Pore Filler with water to the surface that is now open and stain free.
Pre-wet the surface and apply the Pore Filler to ensure there are no dry spots. Run the unit laterally and crisscross your first pattern on a second pass, and again on a third and final pass. Ensure to move the unit slowly so that the head speed can keep up with your forward or sideways motion.
Allow the area to dry completely, normally 45-60 minutes.
Follow with Pad 03 to remove the topical slurry, making sure to re-wet the floor with water and follow a crisscross pattern as before, with 3-4 passes recommended.
Once complete, run a squeegee to remove any excess surface sludge and clean up using a small wet vacuum OR run your auto-scrubber with vacuum and squeegee on.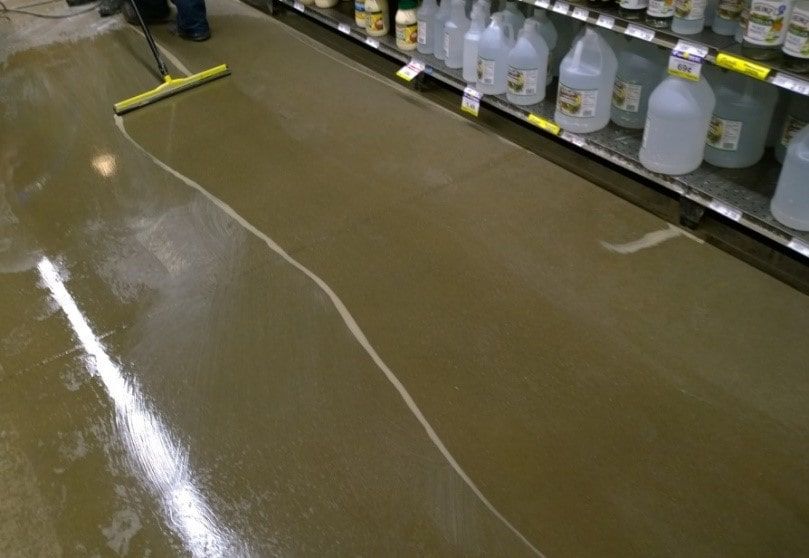 Pads No. 04 (White) & 05 (Yellow) Final polishing steps. (Note – Pad No. 5 is optional)
Used to finish polishing the area that is being repaired to a higher reflective finish.
Fit your scrubber unit with Pad 04. Pre-wet the surface with water and ensure there are no dry spots. Run the unit in a crisscross pattern for 2-3 passes.
Repeat the same steps with Pad 05 if a higher gloss is desired – this is optional.
ECOGUARD Polishield™ Premiun Stain Protection
Apply a single, thin application of Polishield™ by microfiber applicator at a rate of approx. 1,200 SF per gallon.
Allow to dry for 1 hour or more to the end of the janitorial shift, and use a high speed burnisher fitted with a medium hogs hair pad to buff the floor to a desirable gloss finish.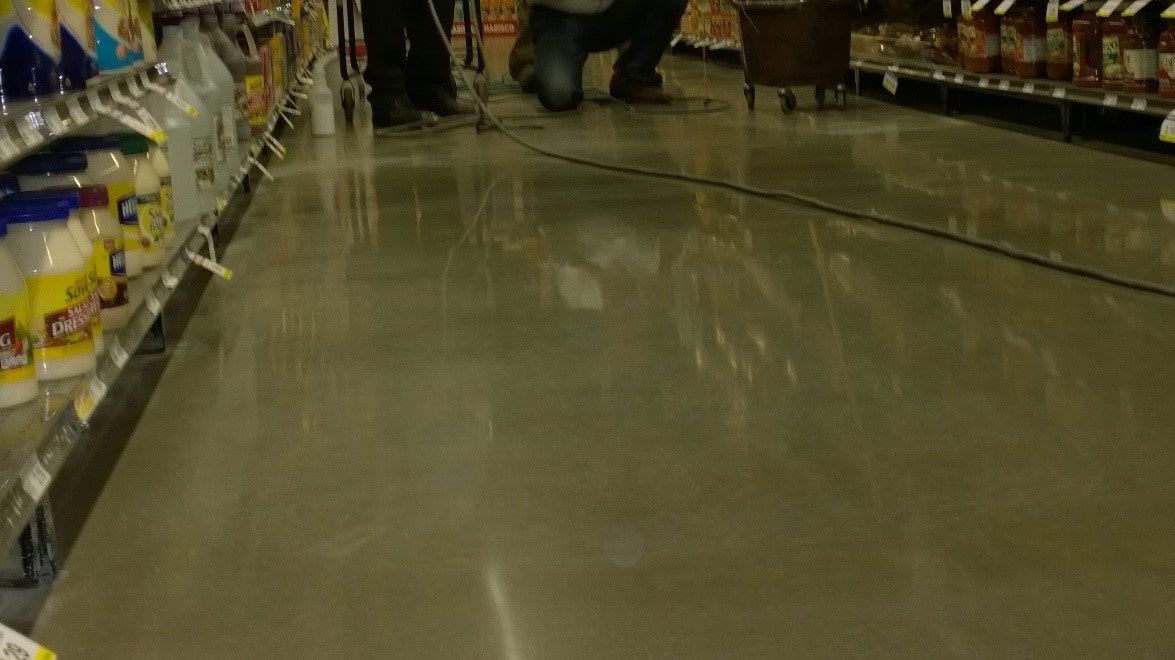 ECOGUARD Preventative Maintenance program
DAILY: Add ECOGUARD Daily Cleaner to the clean water tank of your auto-scrubber, fitted with the ECOGUARD Daily Maintenance pad. Clean and run the squeegee as usual. The surface can be burnished with standard hogs hair burnishing pads if a higher gloss is desired.
WEEKLY: Add ECOGUARD Floor Conditioner once per week. Dose the clean water tank with the recommended dosage and run the auto-scrubber fitted with the ECOGUARD daily maintenance pad as usual. Burnish with standard hogs hair pads if a higher gloss is desired.
Periodic re-applications of Polishield™ can be scheduled as needed based on abrasion wear from heavy foot traffic. This can be as often as once per quarter to as little as once a year.
Questions?
Feel free to contact us using the form below.