RS150 FLOOR GRINDER
Heavy Duty edge to edge performace
RS150 FLOOR GRINDER
Weighing in at 150LBS with a 14" footprint, the RS150 has all the same features as the award winning RL500.
It is geared towards contractors specializing in smaller grinding and polishing projects, such as residential homes, basements and high-rise developments.
The RS150 is ideal if access to 220V power is an issue- unlike any other 110V machine on the market it packs a mean punch!
Geared down for maximum torque, this machine will outperform any 110V grinder on the market.

It can also be easily transported as it separates into 3 pieces that fit comfortably in the trunk of a small car.
This 100% trackless machine was designed with six counter rotating heads which double cut & cross cut with each pass – which ultimately cuts the number of passes in half when compared to planetary grinders.
This multi purpose unit is versatile enough to be used as your primary grinder and polisher or solely as an edger.
ADDITIONAL FEATURES
Dual vacuum manifolds for efficient dust control
Grinds as close as 1/8″ to the edge
Counter rotating heads (double cut and cross cut with each pass)
Wet or dry grinding
Extremely durable floating UHMW dust skirt
Uses Rhino style tooling
PRODUCTION RATES
Extremely Heavy Removal: 100-150 sq./ft per hour.
Heavy Removal 200-300 sq./ft per hour.
Light Removal 250-400 sq./ft per hour.
Grinding & Profiling 300-450 sq./ft per hour.
Polishing 400-650 sq./ft per hour
RECOMMENDED TOOLS FOR RS150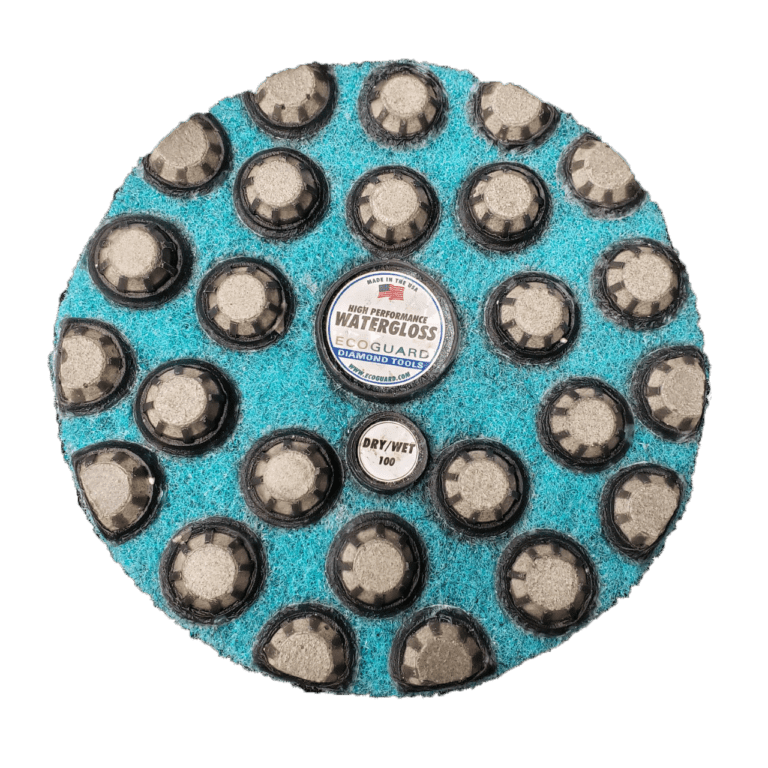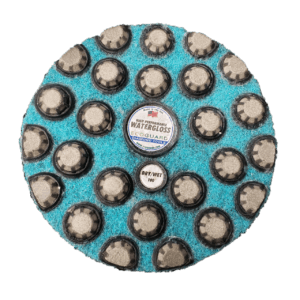 Watergloss
Unique pad with individual resin stones.
WE RECOMMEND THE 5" PAD FOR THE RS150
Questions?
Feel free to contact us using the form below.