Watergloss Pads
Watergloss polishing resin pads demonstrate all of the advantages of ceramic with none of the wear factors or undesirable ghosting or abrasion lines on the outer edge of the tool.
The diamonds are embedded in a cutting-edge, ceramic-like resin bond and demonstrate excellent cutting and polishing, mounted on individual heads which contour the floor completely. The resulting gloss and distinction of image is greatly enhanced by this process.
We continually adapt based on our customer's feedback. Starting in April 2018, we improved the performance of the Watergloss resins by nearly doubling the diamond load. This along with using `combination grits has resulted in smooth non-scratching transitions, from one tool to the next.
All Watergloss pads are "Ready to Use", meaning: dressing of the tooling is not needed.
Application
Professional tool for mirror finish of concrete floors

Elimination of scratches using # 100

Grits available from 15 to 3, 000 – NO scratches

Ideal for all PREP work without face grinding

Made to abate orange peel & polish hard floors

Ideal to apply & remove ECOGUARD Pore Filler
Highlight
Extremely quick tool change

Cross-grinding pattern recommended

Universal tool for many floor types

Very high grinding pressure
Floor Types
Concrete

Self-leveling floors

Terrazzo (Cement base)
Compatible Machines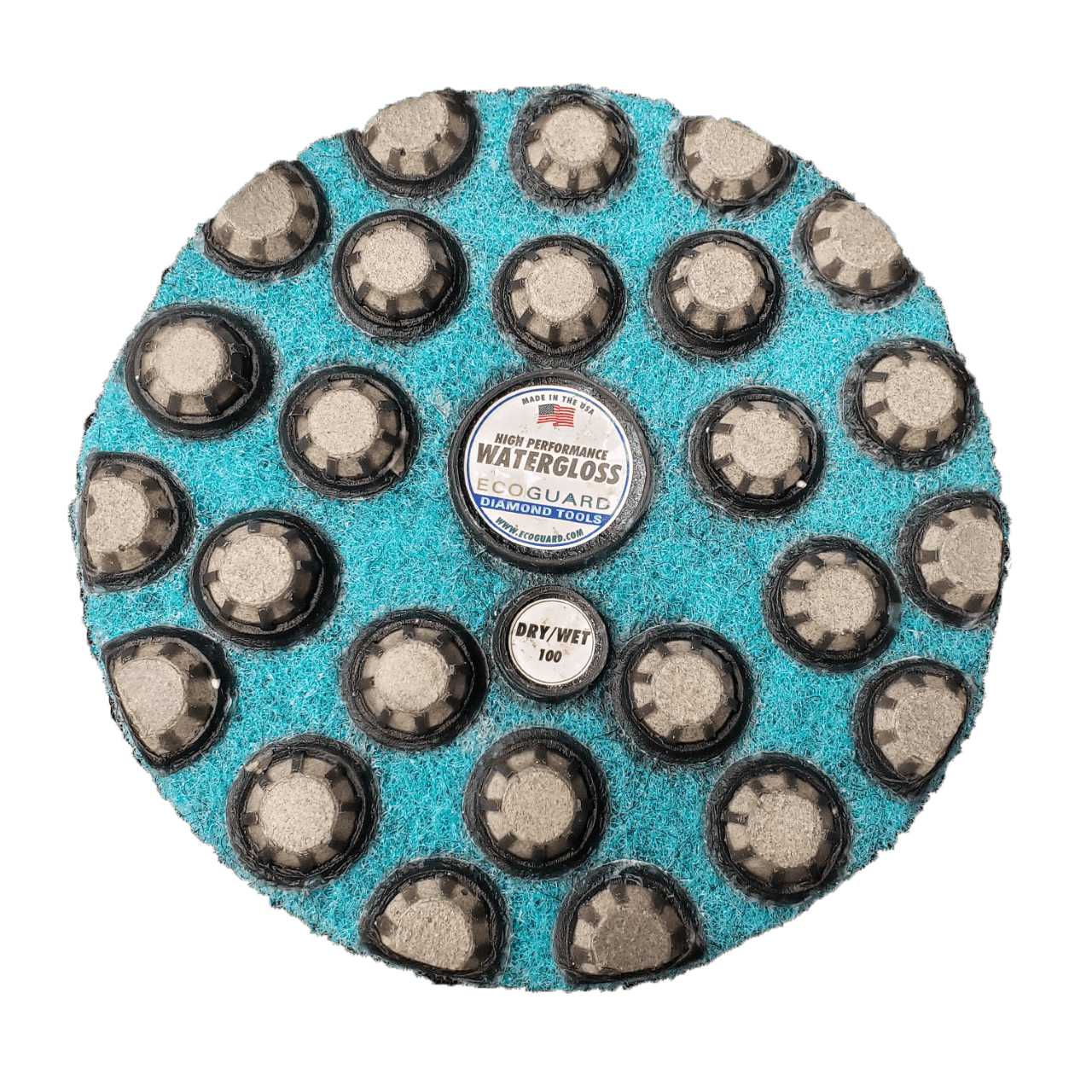 Stingray Pucks
Not just another universal resin "puck", which we engineered due to the popularity of using universal tooling. At 3″ diameter, the STINGRAY resin pucks can adapt to most grinders on the market today.
So, what's the difference between ours and the rest?
Diamond load – highest concentration of diamond abrasives

Ceramic like resin compound with extended life

Removes the need to use hybrid tooling from metal bond to resin transition

Proprietary fillers maintain the puck cooler

Custom designed to allow flow of ground dirt between raised segments

3mm diamond resin base plate allows transition to new puck without scratching

Neoprene industrial strength loop for durability and cushion effect

Engineered blend of high performance diamond abrasives for unsurpassed results
Application
Professional tool for polishing concrete floors

Elimination of scratches using # 100

# 15 to # 30 Grit for Surface Prep with minimal scratch pattern

Excellent to abate orange peel on polished concrete floor
Highlight
Quick tool change

Cross-grinding pattern recommended

Universal tool for all concrete floor hardness

Well distributed grinding pressure

From 15 Grit 200 Grit for grinding and 400 to 3000 polishing applications
Floor Types
Concrete

Terrazzo (Cement based)
Machines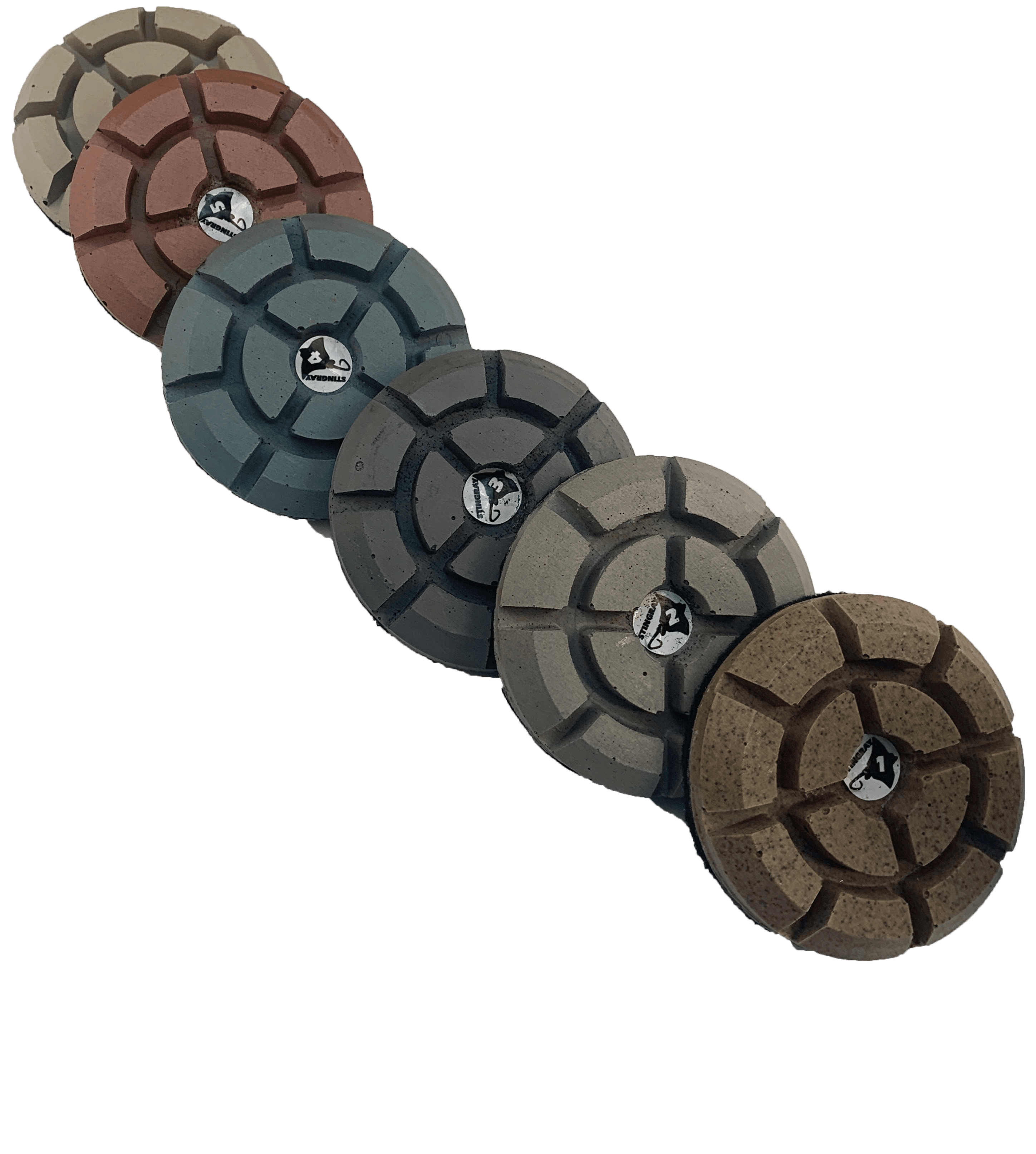 Edge Watergloss
Hand polishing resins available in 5" & 7" Diameter
The Edge-watergloss polishing pads are manufactured specifically for hand-held grinders to polish edges, stairs threads, around columns in exposed areas, and other hard to reach, yet exposed flooring surfaces.
The Edge-Watergloss resin pads are fitted with specifically engineered diamond resin stones for hand-held grinders. The stones are embedded and mounted on a fibrous pad for easier removal and cushioned grinding.
Available in grits from 15 thru 3,000

Easy to remove and change out with no breakage

Excellent grinding and polishing properties

Designed ergonomically for easier handling and use on hand held grinders

Little to no resin residual marks

Excellent gloss and DOI potential based on desired levels

Perfect match to Watergloss polishing resin finish – avoids shadow line.

Excellent on stair threads for vibrant, gloss finish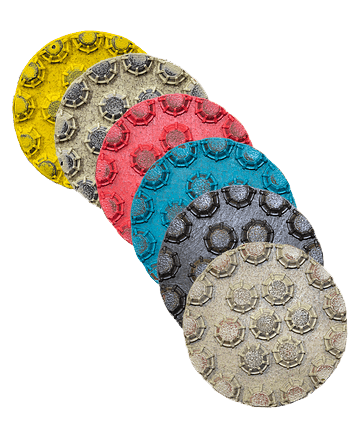 Questions?
Feel free to contact us using the form below.